Meghan Chase has a secret destiny—one she could never have imagined…
Something has always felt slightly off in Meghan's life, ever since her father disappeared before her eyes when she was six. She has never quite fit in at school…or at home.
When a dark stranger begins watching her from afar, and her prankster best friend becomes strangely protective of her, Meghan senses that everything she's known is about to change.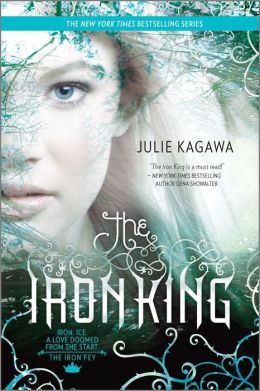 But she could never have guessed the truth—that she is the daughter of a mythical faery king and is a pawn in a deadly war. Now Meghan will learn just how far she'll go to save someone she cares about, to stop a mysterious evil no faery creature dare face…and to find love with a young prince who might rather see her dead than let her touch his icy heart.
2011 RITA Winner for Young Adult Romance
________________________________
I finished this in two days, that's how good it was. At first it was kind of slow, but once you get a few chapters into the story it gets a lot better.
I loved Puck, he was hilarious. Oh my gods and Ash, he puts all those other fictional boys to shame. I knew I was going to love him from the beginning from the moment Puck murmured his name on the school bus to Meghan's home. Okay so Puck is one of the main guys in this book, and you can so tell that he has feelings for Meghan, but she doesn't realize it. Puck is the Puck. From Shakespeare's A Midsummer Night's Dream. I did not see that coming either.
Then there's the real kicker, but I'm not going to tell you that because that would ruin the book for you and I'm not going to do that to you.
Meghan has to enter into the Fairies world because they have taken her little brother, and she wants him back. She has help from Puck, Prince Ash, and a cat named Grimalken. Well they have to travel into the Iron King's court. I thought Fairies were allergic to iron? Well they are, but new fairies have sprung up that are no longer allergic to iron, and that is risking the life of all other fairies. So now on top of finding Meghan's brother, Ethan, they have to find away to kill the Iron King. Come to find out someone's already tried to kill the Iron King, but it can't be done. Unless they have a special weapon which they get from the Dryads (I think that's how you spell it) and they enter into the Iron King's territory. So will Meghan and her friends destroy the Iron King and save Ethan, or will they fail?
I really liked this book and I can't wait to read the next book. I still have to get it, but the end of this book ended in a cliffhanger type thingy and I really need to read it. I'll let you know how the next book is, and how I liked it.


Rating of the Book: 5 Stars
Author: Julie Kagawa
Publisher: Harlequin
First Published: 2/1/2010
Pages: 368
Series Book: Yes
Will I read the next one: Yes


~Ariadne James